JAUNDICED EYE ON STUPID GUY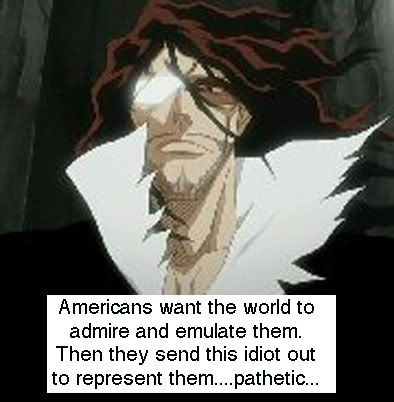 By Elaine Meinel Supkis

Welcome to "Jaundiced Eye on a Stupid Guy." I am Zangetsu, one of the stars of the Japanese anime, "Bleach". We have brought together a panel of cast members of that great show, all members of high status in the Soul Society, Heaven's answer to out of control demons.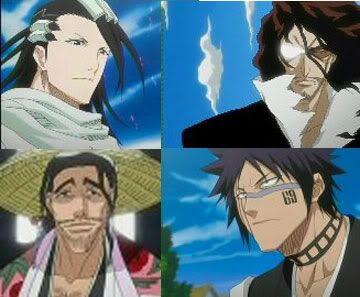 Since we live at the Gates of Death, we certainly can sit in judgement on the living. Today's subject is the "leader of the free world", a man with a notorious past, bloody desires, psychotic behaviors, and worst of all, he can't comport himself at a level above that of a poorly trained, ill tempered chimpanzee.
As the best drunk in Soul Society, I can assure you that one can look great, dress fetchingly and pick up hot chicks while fighting demons, all while soaked to the gills. There is some talent involved in this, of course.

You drunken sot. No aristocrat would be caught dead, dressed like you, sober or drunk. And the ladies run from you, too.
Since I am merely the incarnation of the Death Dealing Sword of Justice, so to speak, I have no idea about drunks chasing females. We are here to talk about why America produces some of the most pathetic specimens of leadership and how we can change this.

Dude, all the politicos look and act lame. I can't see any interesting human leaders.

Hitler was big about designing interesting fascist uniforms and symbols and then destroyed the entire effect by wearing what had to be the ugliest and stupidest mustache on earth. Only clowns and comedians like Charlie Chaplain wore one, for example. I wonder if humans really want to be taken seriously.
Unfortunately, we must take them seriously. For example, we all saw on Masterpiss Theater, how the Bourbon Bushes like to summon demons and rob graves. Hitler and his ilk murdered millions of innocent humans. The existence of these fiends is why we are always so busy, fighting demons.

*sigh* This is why I keep saying, why even allow the humans to exist? Religious books the humans worship from often talk about eliminating them. One can see why.
Whoa! Wait! Man, I got to object! I like chasing chicks. Hell, human chicks are fun! What's the matter with ya? Geeze.
As a weapon, I have no idea what you are babbling about. Back to Bush. We have assembled some photographs of him and wish for some analysis. Can this man be saved from himself? (Laughing from the rest of the panel)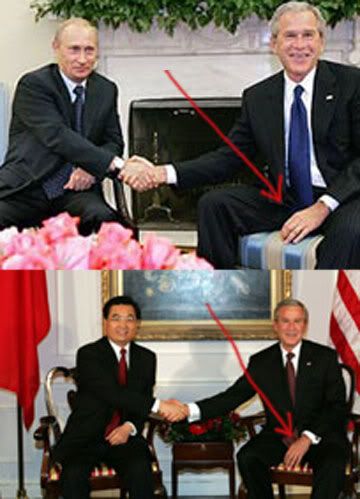 First, here he is, in official, posed photos. Note that in all of them, and this is only two examples, there are many more, I assure you, showing his sloppy form. Note the hand laying inert next to his diddly toy. No other mortal does this, at least at this level. He is the only one who can't sit straight up, Looking like you have to masturbate isn't very dignified.
Hell, I do things like that while lying down on the floor.

You filthy sot. I would like to crush your face into the tatami mat. And this President of the humans in America? Not a worthy opponent.
Onwards. Here is a picture from this week of Bush at a funeral. Many photographers have clicked on his face at funerals or when he is talking about the dead. He nearly always smirks or even openly laughs. Warned that this is upsetting more and more people, his handlers have attempted to try to get him to control this urge.

We don't cry at funerals.

Guardians at the Gates of Death are too dignified to cry. And I personally, would not want a laughing idiot come past here, either. We will deal with this matter in the end.
Hey, every time I try to slip some drunks past you, you draw your sword! If you had your way, Heaven would be the most boring place on earth.

Ya's right. We want to party here, not go around, spooking everyone like certain people here.
Moving on. Here is Bush praying. He is calling on his "god" whoever that is.

Since the Devil that is Death is his ultimate god, I guess it is appropriate to look like he is using the toilet.

I hope you can keep that disgusting human away from me. Understand?
On 9/11, Bush failed to protect people and many died. He then flew to NYC to stand on the still smoldering ruins that had thousands of dead bodies still buried there and not only gave a speech, but laughed and America decided to follow him mindlessly. This was called his greatest moment.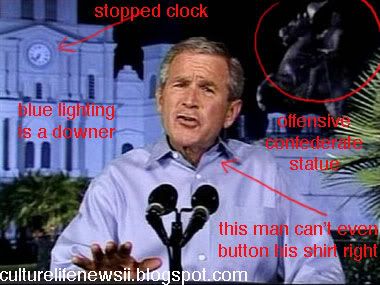 It's normal to be happy when you see things are going great. Like when we kill lots of demons. Right?

I see that idiot can't even put on a shirt properly. Or was he pretending to be working so hard, he couldn't spare five seconds for donning his garb? And the background lighting. Looks like a cheap anime about vampires. *sigh*. I suppose he and his crew thought, "New Orleans=vampires" because of all those books about that subject.
We kill vampires!
Here is a shot of Bush leaving New Orleans. Any comments?

What a loser. Looks like he was beaten with rods. I would certainly apply a whip to him for bad taste.

No wonder he is a psycho. He looks like the sort of spoiled, self centered brat the aristocracy spits out occassionally. Kind of reminds me of someone...heh.

I will deal with you later.
Last shot. Can't even appear friendly anymore when in public. Yet the people supporting this man still want to fool humans into thinking this obvious psychopath is normal as well as friendly.

Being unfriendly is normal.
So says the dude who is going to execute his own sister. Yah.

I have no personal feelings. I operate only to fulfill my function which is to bring justice to the dead. All I can say is, if humans follow fools they will fall into the abyss. Following humans in the grip of demons is dangerous. It is futile to thwart the will of Heaven. Many humans, seeking power rather than peace are following leaders who are intent on destroying the planet, killing humans, all in the name of unfettered greed, vain glory and self worship.
Thank you for joining us today. Have a nice day.
To return to homepage click here